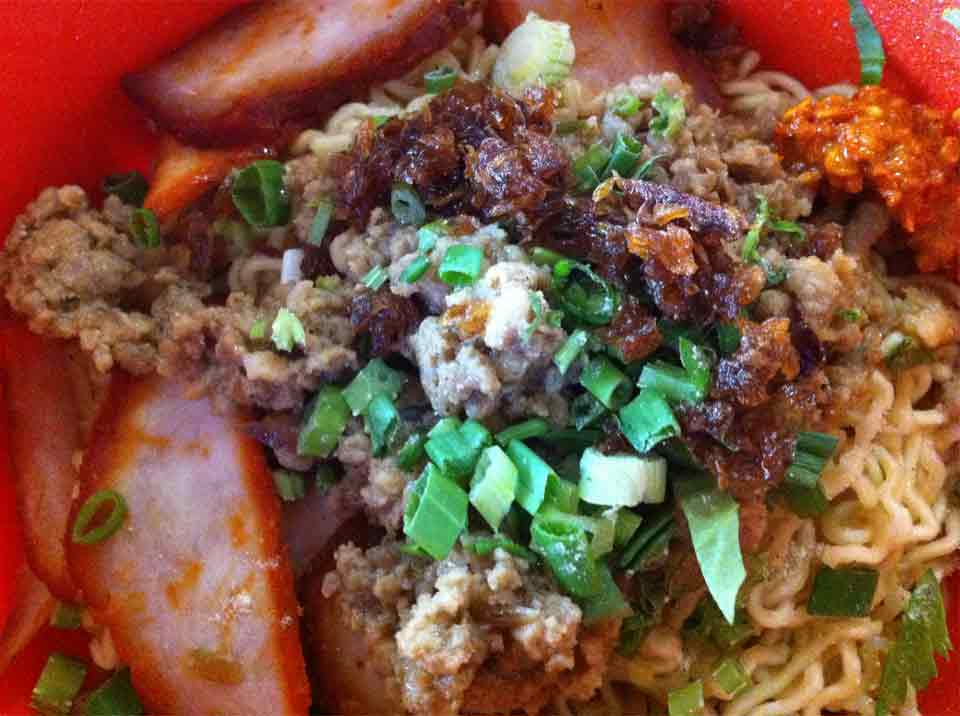 Ever heard of Sarawak Kolo Mee? How about Sarawak Laksa? Well, these Sarawak noodles are rare in Singapore. But we found a stall in Haig Road Food Centre (which is opposite Tanjong Katong Complex / near City Plaza) that serves them.
Look at the photos of Kolo Mee. The noodle is quite dry, comes with minced meat and char siew. At first, we thought the noodle wouldn't make it into FoodClappers review, as they look like typical wanton mee. But then we noticed there is a small scoop of balachan chilli in the bowl. Hey, that is the magical ingredient that transforms this noodle from its deceivingly, unappetizing look into a candidate worthy of our review.
When the balachan chilli has been mixed well with the noodle, the noodle takes on a sour and spicy taste. The taste is so unique. It is like a fusion of Penang sour laksa and Hong Kong wanton noodles. Yummy indeed. This Sarawak Kolo Mee would still taste good even when you take away because the magic is in its balachan chilli. And since the noodle is dry, there is no worry of it becoming soggy when you take away. Try it!
As for the Sarawak Laksa, it has a mild sour, brown soup base. We love the way it is served. Look at the photos – 3 large prawns and a lovely stalk of parsley. The prawns are fresh and juicy. Its sour-ish soup base has a hint of assam taste, and because it is only mildly sour, we finished the entire bowl in no time, leaving us desiring more. We will be back for a second helping definitely.
Big name: Sarawak Kolo Mee
Where: Haig Road Food Centre
Stall: #01-33