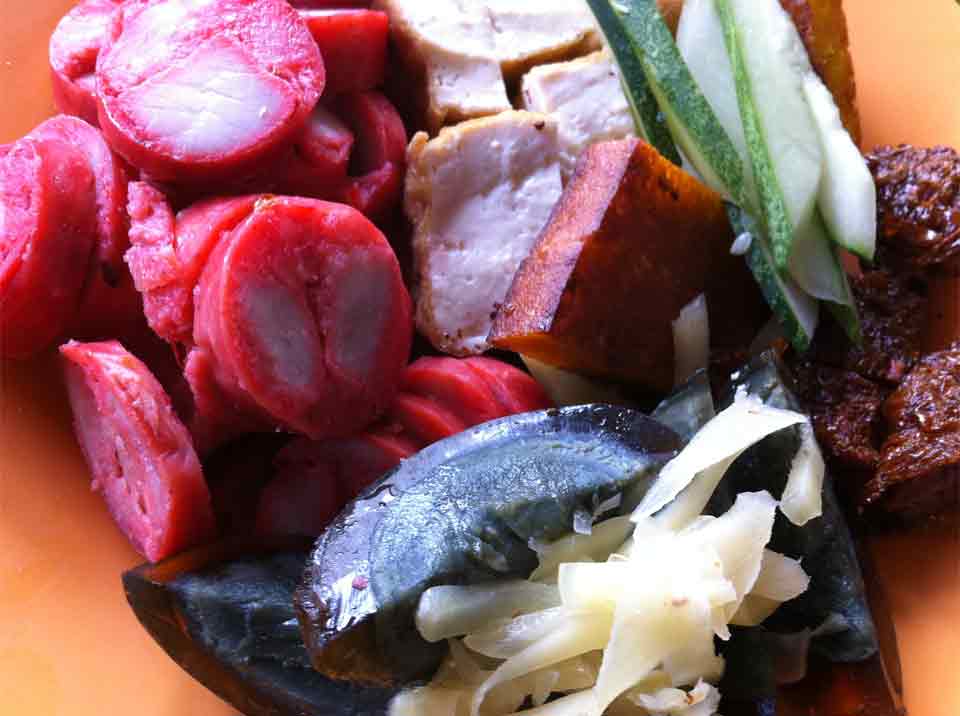 Have a craving for the best Ngoh Hiang fritters? Let's go to Maxwell Food Centre (formerly called Maxwell Market). The Maxwell Food Centre has been a food paradise since the 1950s and is home to several hawkers of the old China Street.
At Maxwell Food Centre, stall number 64 (stall name "China Street Fritters") stands out from the rest. The stall has been around for multiple generations, and today still serves Ngoh Hiang faithfully and tastefully.
Their selection is pretty simple – just 8 items, neatly arranged for customers to choose (see photo). We ordered almost all the items except the Liver Roll. For the Pink Sausage, we asked for a double serving, and we added a plate of Fried Bee Hoon. It costs just $8.00 (see the photo). Quite a big portion!
These are the best items on the plate — Pink Sausage, Egg Slice, Meat Roll, Century Egg. The Pink Sausages have a good "meaty" bite. Its texture is unlike those sausages of other stalls which tend to be softer and more mushy and lack the bite. Lightly dip the Pink Sausages into the sweet sauce provided, and they would simply melt in your mouth. The Egg Slice is slightly crispy and simply salivating with the chilli sauce. As for the Meat Roll, it is extremely fragrant and is one of the best Ngoh Hiang meat rolls we have ever tasted. And the stall serves high-quality Century Egg, with big, dark and rich-tasting yolk.
Finally, after reviewing the above, we could not resist the temptation, so we ended up ordering a takeaway. This is the best Ngoh Hiang at Maxwell Market. Must try!
Stall name : China Street Fritters
Stall number : No. 64
Where : 7 Maxwell Road, Singapore 069111 (near Tanjong Pagar)