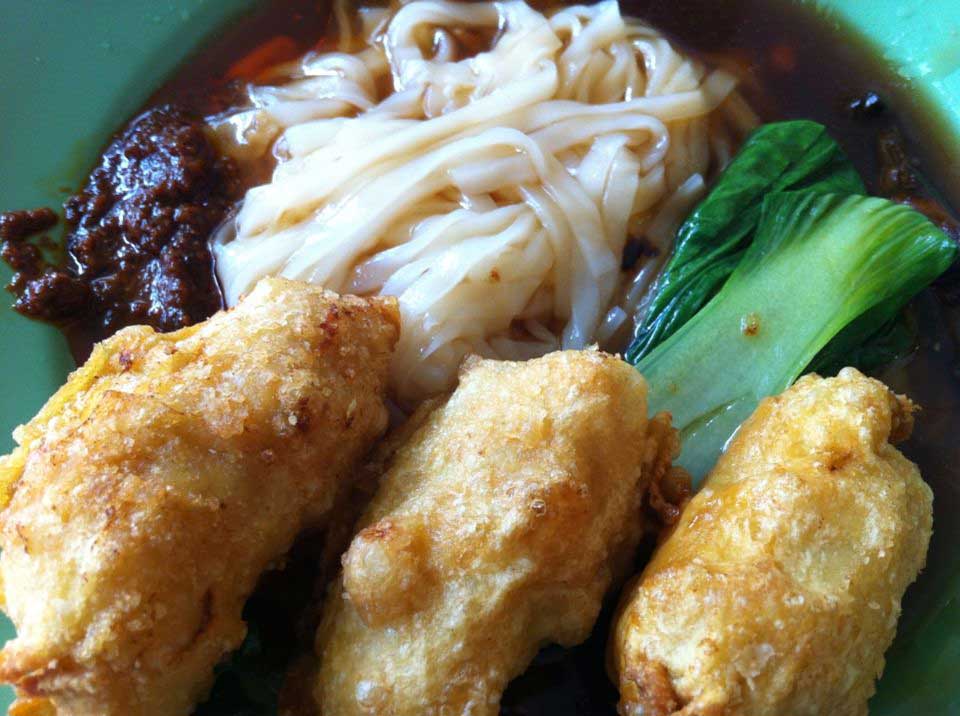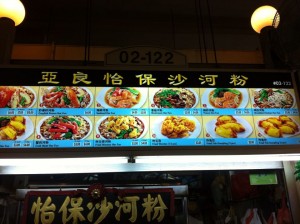 This stall is famous for its soft and silky Hor Fun. On its menu, the stall offers 9 types of Hor Fun — Clayfish, Clayfish Prawn, Seafood, Mushroom, Prawn, Shredded Chicken, Fried Fish Dumpling, Crab Meat and Fried Wanton. Today, we reviewed the innovative Fried Fish Dumpling Hor Fun.
Fried Fish Dumpling Hor Fun:  We seldom find stalls selling Ipoh Hor Fun in Singapore, let alone Fried Fish Dumpling Hor Fun. This is why we decide to review this particular dish. Previously, we have tried the fried fish dumpling as a stand-alone dim sum and we love its taste. But we saw many customers ordering fried fish dumpling with Hor Fun. Today, we return back to try it, and low and behold, we realised that the fried fish dumpling and hor fun combination is simply perfect. The hor fun's gravy seeps in and softens the otherwise crispy dumpling skin, and this enables the aroma and the juice within the fish dumpling to exude in the mouth. It is truly a marvellous bite. No wonder the fried fish dumpling hor fun is one of the best sellers for this stall. Again, it's only $3.00 a plate, comes with 3 large dumplings and a generous portion of soft, silky hor fun noodles. It is a worthwhile lunch.
The stall opens only for about 4 hours a day, from late morning up to about 2:30pm. Probably not everyone has the time to travel all the way to town, pay ERP, and queue up just to try a plate of Hor Fun on working days. The good news is that the stall is open on weekends as well, the queue is also shorter. Better to head down on weekends.
Check out their traditional Mushroom Hor Fun as well.
Where: Amoy Street Hawker Centre
Stall number: #02-122
Operating hours: Daily 11am – 2:30pm