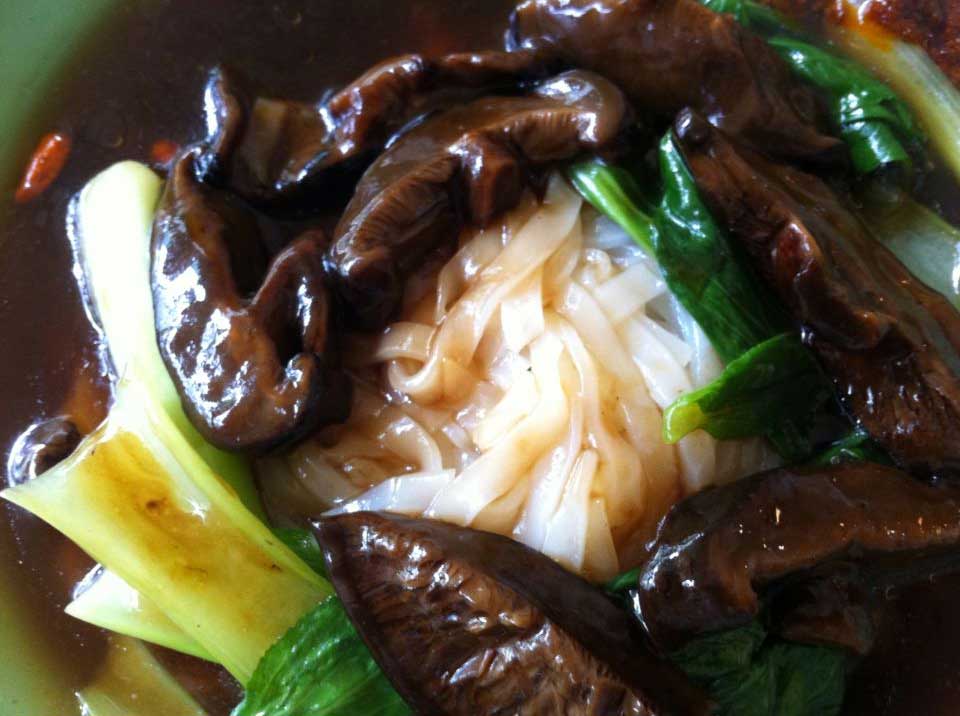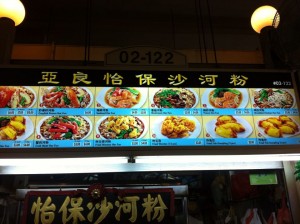 This stall is famous for its soft and silky Hor Fun. On its menu, the stall offers 9 types of Hor Fun — Clayfish, Clayfish Prawn, Seafood, Mushroom, Prawn, Shredded Chicken, Fried Fish Dumpling, Crab Meat and Fried Wanton. Today, we reviewed the traditional Mushroom Hor Fun.
Mushroom Hor Fun:  The Shitake mushrooms have been perfectly braised and are soft to the bite. There is a pleasant, dense aroma in every piece of mushroom, all thank to the gravy. I am sure the stall has some kind of secret recipe from Ipoh for that gravy. I have hardly come across such great Mushroom Hor Fun, except in Ipoh Malaysia itself. For $3.00 a plate, it is certainly worth it. Tastes pretty much like an original Ipoh delicacy. Oh by the way, the prawn-pounded red chilli is a must-try.
The stall opens only for about 4 hours a day, from late morning up to about 2:30pm. Probably not everyone has the time to travel all the way to town, pay ERP, and queue up just to try a plate of Hor Fun on working days. The good news is that the stall is open on weekends as well, the queue is also shorter. Better to head down on weekends.
Also check out our review of their Fried Fish Dumpling Hor Fun.
Where: Amoy Street Hawker Centre
Stall number: #02-122
Operating hours: Daily 11am – 2:30pm