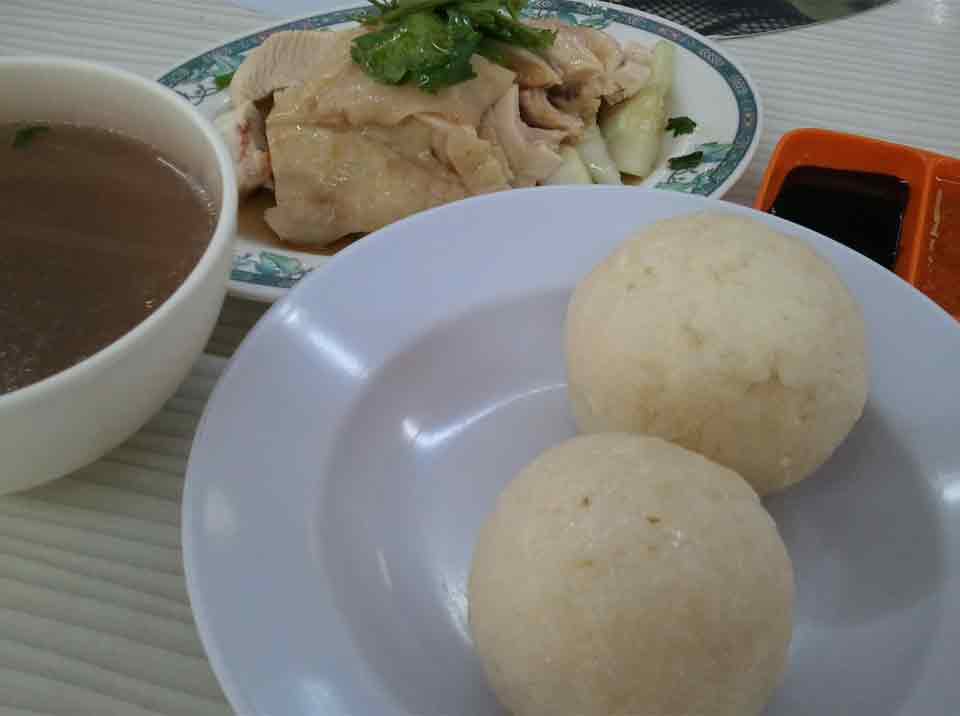 Hainanese chicken rice is common in Singapore, but have you tried Hainanese chicken rice balls? This dish is very rare in Singapore, the reason being it is hard to cook to perfection. FoodClappers visited this coffeeshop located in Blk 111 Toa Payoh Lorong 1 which has a stall that specialises just in Hainanese chicken rice balls.
For a standard order, you get two balls of rice in a traditional Hainanese style. The rice ball is yellowish, looks oily and we thought so, but in actual fact, it is not oily and comes with an inviting fragrance of chicken essence. The rice balls remain firm even when cut into halves, showing that there is a secret technique behind how the rice has been cooked.
The chicken is very tender but also more fatty than usual. You will enjoy the meat as much as the rice ball itself. By all means, you can remove the chicken skin and have a conscious-clear meal

However, we suggest that you try eating it the way it has been served, because biting into the chicken and skin is indeed the climatic experience of this meal.
The meal comes with a bowl of clear soup, which we thought is probably standard chicken stock. However, the soup is so deliciously different from those served by other chicken rice stalls, that one bowl is simply not enough. We discovered later that it is actually peanut soup, hence the rich taste it has.
Where:  Chang Cheng Mee Wah Coffeeshop,
Blk 111 Toa Payoh Lorong 1
Big Name: Good Year Local Hainanese Chicken Rice Ball